Campus Map
State of the art facilities and a calming environment surrounded by greenery. We cultivate motivation for a rich education.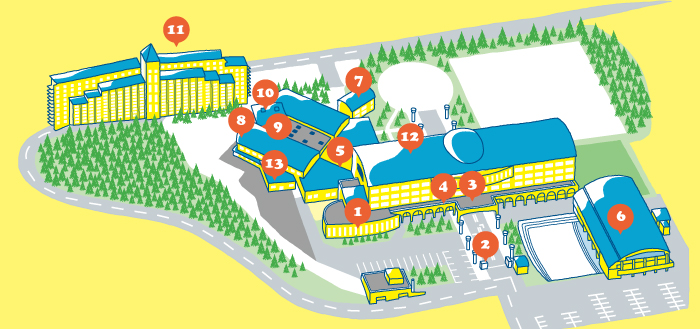 1)Community lounge
A lounge where many students gather during breaktime and in between classes. International students also often use it, and it is a lively place where various languages fly about.
2)Main entrance
The main entrance which appears once you climb the hill to Nagasaki Gaidai. Every morning, students at Nagasaki Gaidai go through this front gate and attend school. In the spring, cherry blossoms in full bloom greet everyone.
3)Common space
An open-feeling space installed among the classrooms. This is a space where one can go for a change of pace between classes, with a ceiling painted with the blue sky and the rich view that expands beyond the windows.
4)Classroom 211
A classroom for active learning, which is used not only in lecture-style lessons, but also a place where group work and group discussions are often held.
5)Multimedia library
This is a library where books from various countries are gathered, including magazines, picture books, newspapers, and every possible resource. Many students use it for working on assignments and studying for exams.
6)Gym
Various events are carried out here, such as lessons, school festivals, and sports events.
7)Clubhouse
Building used by clubs and circles holding extra-curricular activities. On every floor, there is also a shower room.
8)CoSTa Space
A new study space that is neither a classroom nor a library. A free study space that can be used for any style of study of studying, such as self-study or group study.
9)Simultaneous interpreting system
In order to simultaneously interpret for interpreting lessons and international exchange events, a simultaneous interpretation system and booth are installed. Colleges with a permanent simultaneous interpretation booth are rare throughout Japan. We develop English skills among an atmosphere akin to international conferences.
10)M204 Studio
A classroom exclusively for presentations, equipped with a six screen multi display and large screens. There are also functions to record the presentation and broadcast it to the internet.
11)Ampelos Dormitory
The international dormitory adjacent to campus.  By living with international students, one is able to experience international exchange on a daily basis and always be in contact with cultures and customs from overseas.
12)School shop
The store sells snacks, school supplies, and daily necessities, among other things. Many students shop here during breaktime.
13)Student cafeteria
The student cafeteria, where a cheap but filling menu is assembled. Fulfilling meals, including the staple menu, day's special, and week's specials are prepared.
---