Ampelos Dormitory
Ampelos: the NUFS International Dormitory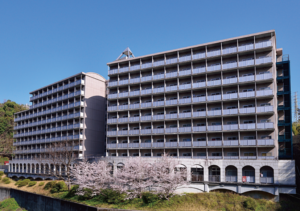 Ampelos is a modern and safe dormitory that was built adjacent to the NUFS campus to support the college life of students who are far away from home. The dormitory consists of single and double rooms and a large amount of common space to provide individual privacy as well the opportunity to make new friends throughout the dormitory.
| | | |
| --- | --- | --- |
| Community Hall | Dining Hall | Laundry Room |
| Fitness Room | Corporate Kitchen | |
Ampelos Facilities
"Ampelos" is the Greek word for "grape vine." Founded on this Biblical reference, Ampelos strives to support a rich and rewarding student life at the university.
Single and Double Room Amenities
Each Ampelos room includes a platform bed, desk, chair, bath, toilet, sink, stove, air conditioner/heater, phone, shoe closet, and closet.
Dining
Nutritional meals prepared by a specialist cooking staff are served in the Ampelos cafeteria.
Breakfast 7:00 a.m.~9:00 a.m./Dinner 6:00 p.m.~8:00 p.m.
Internet Service
Internet service is included in monthly service charges.
Ampelos Office
The Ampelos office is staffed 24/7 to provide peace of mind even in the case of sudden illness.
Exchange Events
Ampelos hosts BBQ, Christmas party, and several other exchange events throughout the semester.
Fees
One-time entry fee: 20,000 yenBed clothes: 10,000 yen
Room and Board:42,000 yen (monthly, single room) or 21,000 yen (monthly, double room)
Dining* :23,000 yen (monthly, includes breakfast and dinner)
Other Costs: Utilities (charged by use, minimum 1,000 yen, average 5,000-7,000 yen)
*Students entering in the fall semester are charged in advance for meal service in September, October, and November, and students entering in the spring are charged for March, April, and May. Meals for later months are optional and charged monthly.
Applying to Live in Ampelos
International students wishing to live in Ampelos during their time at NUFS should select the dormitory housing option during the study abroad application process. For further information, please contact the International Center (ic@tc.nagasaki-gaigo.ac.jp).
Contact Ampelos
Nagasaki University of Foreign Studies
Ampelos Dormitory
TEL : 095-881-3100
---