Message from the President
Forge the power of language and people and take off from Nagasaki to the world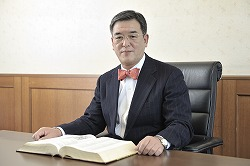 There are only seven foreign language universities in all of Japan. West of Kansai, there is only one: Nagasaki University of Foreign Studies.
Learning a foreign language in Nagasaki is a deeply meaningful and fascinating experience. For hundreds of years, Nagasaki has prospered as a gateway to the world. In particular, it served as a window to Western Civilization during Japan's isolation in the Edo period. From all over Japan, young people with high ambition traveled to Nagasaki to study foreign language and civilization, and they played an important role in the shaping of modern Japan.
At our university, in this historic, cosmopolitan city of Nagasaki, we firmly believe that "The world is our campus!" and "Our campus is the world!" By pouring our efforts into study abroad opportunities for Japanese students and by accepting foreign students to our university, we aim to create a new kind of international exchange in the 21st century.
The purpose of foreign language study does not end with improving communication skills. Through the give-and-take of various languages, various people, and various cultures, you come to know others as well as yourself. The gap between peoples' differences is narrowed, and a foundation for harmony is built. This is the true meaning of foreign language study. In other words, "The power to build a community through dialogue and mutual understanding," the power of human potential, is more important than anything else.
Students, it is my desire that you forge the power of language and people, experience international exchange, build your self-confidence, and take off from Nagasaki to the world.
---