Message from the President
Welcome to the homepage of the Nagasaki University of Foreign Studies.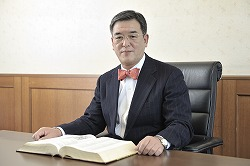 Nagasaki has developed as a port city which has been open to the world for a long time. Especially, when Japan was isolated in the Edo Period, it acted as important window to Western civilization. A lot of young people who have strong ambition gathered from all over Japan to study in Nagasaki foreign languages and foreign civilizations and to play an active part as pioneers in the modernization of Japan.
Now, our university in Nagasaki which is known as a historical international city "the world is a campus!" "Campus is the world!" as our motto, we are making efforts for Japanese students to study abroad and accepting study abroad students from overseas, it is our goal to be the new central place of international exchange in the 21st century.
In order to accomplish that, the most important thing is that we must first instill practical useful language skills. That is not just English, it has a big impact on the development of modern Japan,
The languages that are having a big impact on the development of modern Japan are not only English, but also important languages from the EU such as German and French. Today, it is important to challenge oneself to learn at least two foreign languages, such as the languages of neighboring countries in East Asia that are making great strides in development such as Chinese and Korean, etc., in addition to English. Only once you have experienced the variety of languages and variety in the world can you truly begin to see the difficulty and, at the same time, the significance and excitement of international exchange.
Furthermore, the goal of learning a foreign language is not only that of improving one's conversation skills. Through struggling with different people, different languages, and different cultures, you may know others, yourself, and overcome the differences between you and walk a road of harmony. There lies the true significance of foreign language learning. In other words, "The power to cooperate to achieve a common goal through conversation and mutual understanding." That is the true power of humanity is experience and resourcefulness which is more important than anything else.
Our wish for students is to hone their "language skills" and their "resourcefulness as humans", experience international exchange, and confidently take a leap into the world outside of Nagasaki.
Profile
Akihito Ishikawa
Master's Degree at the Seinan Gakuin University Graduate School
Concentration in American Literature
Began teaching at the 2 year university, Nagasaki University of Foreign Studies, in 1978.
After acting as an assistant professor and later, professor, he also acted as department head, dean of Nagasaki University of Foreign Studies, and vice president of the university and has been president of the university since April, 2011.
---